Published: 26/09/2022   Last Updated: 26/09/2022 14:20:10   Tags: Awards,
AllAgents, the UK's largest estate and lettings agents review site, have recently announced the results of its annual '
People Awards
'. The awards recognise individuals whose service has been reviewed and rated by customers and are in various categories.
We're very excited to share that our director Dan was crowned not only as Best Estate Agent in SE20, but as the Best Estate Agent in London!
The whole team have worked incredibly hard, and performed brilliantly, demonstrated by wins across the board, including:
Jason - Best Estate Agent in SE20 (Silver)
Kevin - Best Estate Agent in SE26 (Silver)
Caroline - Best Letting Agent in SE26 (Gold)
Natalia - Best Letting Agent in SE26 (Silver)
Paul - Best Letting Agent in SE26 (Bronze)
Nicky - Best Letting Agent in SE20 (Gold)
Andrea - Best Letting Agent in SE20 (Silver)
Lorna - Best Letting Agent in SE20 (Bronze)
We thank them all for their dedication to five star customer service, as well as thanking our clients for leaving the great reviews that make these award wins possible!

Published: 24/09/2018   Last Updated: 28/09/2018 17:26:31   Tags: News, Awards
We're very excited to confirm that Kevin's dedication and hard work recently received the recognition it truly deserves in this year's allAgents 2018 People Awards.

These awards are based purely on customer feedback, so thank you to our wonderful clients for taking the time to review our service, and here are a few words from our main man, Kevin:

"I am now into my 16th year as an estate agent and still loving it. I'm a people person and love houses, so this job was made for me. I really like the personal touch that comes from working with a family run estate agents - Property World's ethos centres around honesty and integrity, and that sits well with me. It's just easier to be nice.

This job should be easy - all I have to do is match the right person with the right property. I need to know as much as I can about the buyers needs right from the outset, and ask the right questions when the initial call comes in. Sometimes it takes one viewing, sometimes twenty, but if you know exactly what the client's needs are then you're already halfway there.

Knowledge is power and turning up to viewings on time with all the information a buyer will want is a must - it's shocking the amount of viewers who, when you first meet them, will tell you that the estate agent they had met at a previous property didn't have the lease length, ground rent or service charge information.

I am so proud to have received the award for Best Estate Agent in London. It's really warming to know that the reviews have come direct from both vendors and buyers. I will be looking to carry this onto 2019, so watch out London agents - I'm looking to keep this crown".

The allAgents 2018 People Awards are based entirely on feedback from clients rating and sharing their customer service experiences, and are the UK's largest free customer awards scheme for agents and people working within the property industry.



Published: 06/09/2018   Last Updated: 06/09/2018 11:34:05   Tags: News, Awards
We are delighted to have been nominated for a Best Estate Agent Guide award in the South East London awards category for our exceptional performance in Sales. Less than 5% of agents in the UK have made this shortlist, so we are very proud of the brilliant work our wonderful team is doing!

The Best Estate Agent Guide is a rigorous whole of market assessment of every estate and lettings agent, undertaken by the Property Academy and supported by Rightmove.

The winners will be announced at the awards ceremony in London on 12th October. We'll keep you posted, but it really is an honour just to be shortlisted!



Published: 04/12/2017   Last Updated: 05/12/2017 04:21:39   Tags: Press, Local, Awards
Following recent achievements at the allAgents Awards, local newspaper South London Press published a piece about Propertyworld, highlighting the significance of being named Best Small Estate Agency Chain in the UK. We are delighted about both the award and the favourable press coverage, proving our approach to be the right way. Our fantastically passionate team are committed to providing the best customer service, and if you're looking to move we hope we'll be the ones you call.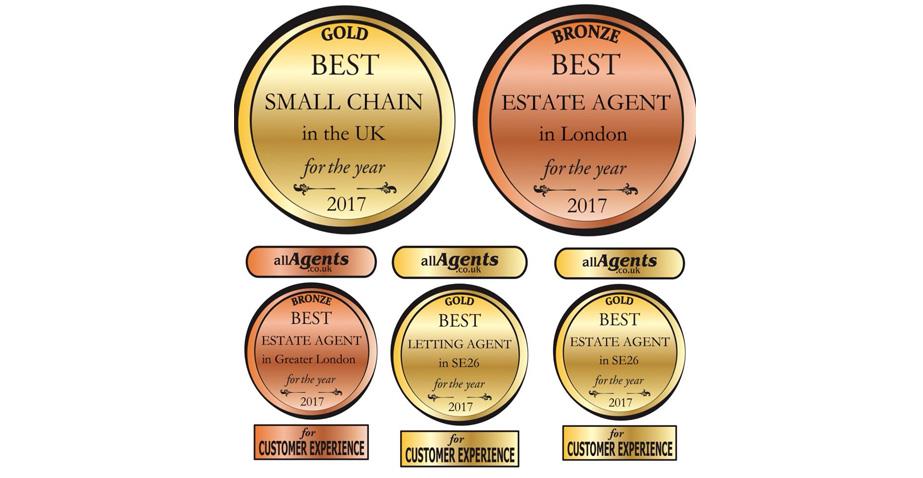 Published: 27/10/2017   Last Updated: 06/11/2017 14:35:28   Tags: Awards
And Property World are officially one of the Best Estate Agents in London! Crowned Best UK Small Chain, we've also won awards in the following categories: Best Estate Agent in Greater London, Best Estate Agent & Best Lettings Agent in SE26. These brilliant results are owed to our wonderful clients and hardworking team - big thanks all round!

Published: 19/09/2017   Last Updated: 12/10/2017 23:00:20   Tags: Awards
We
Propertyworld
are absolutely delighted and incredibly proud to have been shortlisted for two more industry awards! Negotiator Magazine has shortlisted Propertyworld for Best London Agent and Community Champion of the Year 2017. The Negotiator Awards are the gold standard for our industry and simply to be shortlisted is a huge achievement. We want to thank all of fabulous clients and of course our brilliant team for helping make this happen. The winners are announced on 31st October at the Negotiator Awards ceremony. We have everything crossed!!
#BestLondonAgent
#CommunityChampion
#PropertyIndustryAwards
#NegotiatorAwards
https://www.thenegotiatorawards.co.uk/…
Published: 21/06/2016   Last Updated: 12/10/2017 23:26:26   Tags: Awards
Director Dan Crowley wins Best Estate Agent in London 2016!
We are incredibly proud to announce one of our Directors, Dan Crowley, has just won the award for Best Estate Agent in London! The award is from AllAgents.co.uk, the largest review site for the property Industry and is based on the customer experience of thousands of customers across London's 4500 estate agency offices. Our Senior Sales Manager Kevin Owen also came in London's top 5 agents! Thank you to all our brilliant clients who took the time to write a review of their experience.
To see more click:
https://www.allagents.co.uk/awards/2016/staff/sales/london/
Show More Articles